Vital Strike is the 1st melee skill in Dragon Blox Ultimate and the 1st skill in order.
Overview
[
]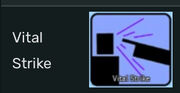 The skill is named vital strike because it targets your target's vital point, hitting it. Uncertainly, the skill was taken from a Dragon Ball game named Dragon Ball Z: Final Stand. Seemingly this is because most skills are mimicked from that game to Dragon Blox Ultimate.
Usage & Power
[
]
The skill requires for its user to get close to its target like shown in the gif on the right. Once used, the target is flung backwards taking damage.
Damage
[
]
The damage of this skill increases as your strength stat does. The initial damage is yet to be said.
Energy Decrease
[
]
This skill takes away 5 of your energy.